DESIGNED FOR FITNESS FACILITIES & CLUB OPERATORS
Are you a fitness club looking for an easy to follow system that gives you 8 different class formats to help you deliver a full class timetable?
GroovX Fitness is a multi-format exercise system that gives you the ability to run classes both live and online at your club. Have one of your instructors learn the routines and teach in your facility or… pre-record the workouts and upload them to your own membership site or live stream them and use them on any social media platform like Youtube, Zoom, Instagram and Facebook. All our workouts use royalty free music. Say goodbye to your workouts being muted or banned! and forget needing to pay for expensive music licences.
Please Note: All trainers must hold (or are currently working towards) A Level 2 sport or fitness qualification.
Take a look inside the platform today
❌ No PPL Online or Offline Licence needed
❌ No LOML Licence needed
❌ No SYNC Licence needed
This is for you if…
✅ You don't have the time to create your own content and marketing for your classes?
✅ You want to be part of a community of like minded club owners and fitness instructors all working toward a common goal.
✅ You are fed up of paying huge fees to get content for your classes.
✅ You are frustrated that your music gets muted on social media channels when you try to run a class.
✅ You are tired of paying large monthly subscription fees for each and every format your instructors want to teach.
✅ You don't want to pay large bolt-on fees for music licensing
✅ You have tried other content providers but didn't feel supported.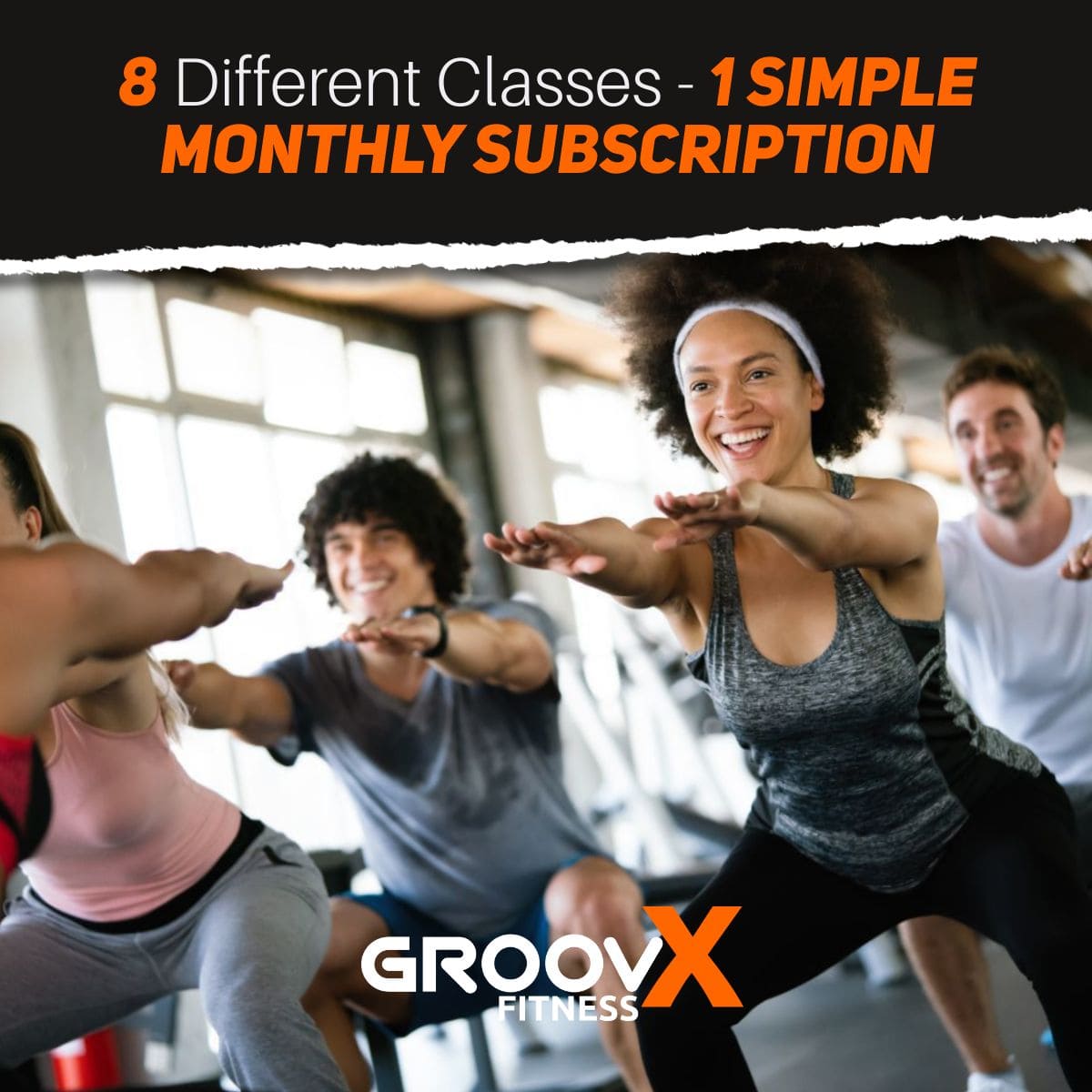 As a GroovX Fitness Partner you get access to…
👍 8 Different exercise formats that your instructors can learn and teach in any capacity. Use the routines in a live class or use them online on any platform, the choice is yours!
👍 A full marketing suite of material for you to launch your classes with.
👍 Our VIP Facebook instructors group that offers full support and a group of instructors and club operators just like you.
👍 Monthly updated and NEW content to add to your classes.
👍 Discounted music tracks to use with your classes
👍 Ongoing support from a team you can trust.
👍 The option to have a full GroovX On Demand system so that you can offer ALL formats to your members straight away.

Proud to be associated with Pure Energy Go
The Creators of GroovX Fitness
GroovX Fitness was created and developed by Lisa and Pete Hillier.
Lisa Hillier has been working in the fitness industry for over 9 years. Her qulaifications include "Level 2 ETM", "Level 2 Exercise for Children", "Level 3 Award in Designing Exercise Programmes for Older Adults" and "Level 3 Award in Education and Training".
Lisa is a presenter, choreographer and master trainer for Beatz fitness and recently won  "Female Presenter of the Year" at the National Community fitness awards.
Lisa runs her own successful fitness classes in the community and now a popular online fitness platform with 200 members and growing.
Before entering the fitness industry, Lisa was a professional dancer and performer and worked in London's West-End in many shows including "We Will Rock You", "Mamma Mia", "Starlight Express" and a host of other productions.
Pete was also a professional performer and personal trainer who for the past 10 years has been in the digital marketing world. He also co-owns 2 health clubs and helps fitness businesses with their marketing and building their brand.
After the Covid 19 pandemic hit, both Pete and Lisa lost their income streams and decided to build Lisa's fitness business online, creating an online platform for her members.
They soon found that streaming content online was a big problem, especially using copyrighted music and so they needed to come up with something different….This is how GroovX Fitness was born…They are now committed to helping fitness instructors and operators build a successful business both online and offline using the GroovX formula.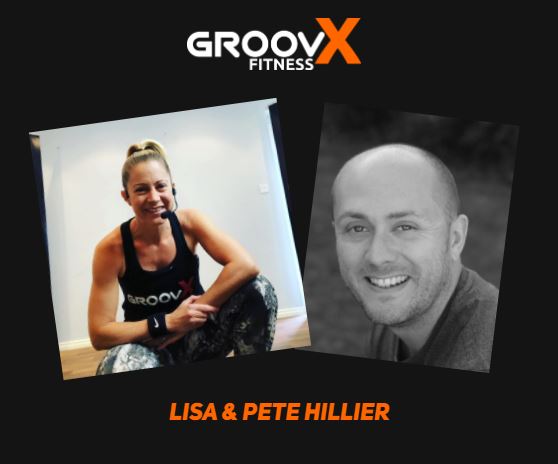 Eight different formats

to use for your online and offline classes,

one simple monthly payment!

GroovX Blast is a HIIT style workout aimed at all levels as separate low-intensity and high-intensity workouts are provided.

GroovX Box combines boxing moves with dance to give you a dynamic and effective workout that is enjoyable and fun. Release your tension and take your stress away with punching, kicking and moving all to a steady beat.

GroovX Dance mixes aerobics with dance to create a fun and dynamic workout that can be used to improve cardiovascular health and increase strength and endurance. 

GroovX Gold is designed for the active older adult or anyone who would like a gentler pace workout. Using low-intensity moves, GroovX gold will get you moving and grooving! 

GroovX Latin is a Latin inspired dance fitness class that will have you moving to upbeat rhythms and dancing your cares away.  This class is suitable for all abilities (low and high impact options are given). 

GroovX Sculpt is a full-body workout using light weights to create resistance while performing movements to help strengthen and tone.

GroovX Stix is the ultimate way to hit and smash your way to a better you. Using drumsticks to bash out rhythms and beats with explosive dance moves.

GroovX Flow is a slow, movement-based workout that incorporates contemporary functional movements focusing on mobility, strength and balance.  Set to relaxing music, this low-intensity workout will get you in the flow!
FAQ
Q: Is there a training fee for each instructor when I sign up to GroovX Fitness?
A: There are NO training fees for your instructors when you sign up, our simple monthly payment is all that you pay.
Q: Can your insructors really learn and teach the content anywhere?
A: YES our content can be used anywhere without the need for music licences or the threat of having your content banned or muted as all of our music is royalty free. You can even pre-record the content and use it on your own membership site.
Q: Are there any other costs associated with GroovX?
A: The only other cost is the purchase of music tracks to use within your classes. We have teamed up with Pure Energy who offer a discount for GroovX Instructors & Operators. There is an option to use our On-Demand platform so you can offer ALL formats straight away for an added cost but this is not compulsory.
Q: How many instructors can I have under 1 licence?
A: As a GroovX partner and club operator you can have unlimited instructors on your licence working for one facility. No need to pay any extra fees. Your instructors are only permitted to teach for YOUR facility. If you are a fitness chain operator with multiple facilities please contact us about our multi-facility package.
Do my instructors need any qualifications to become a GroovX Instructor?
Yes, In order to become a GroovX Fitness instructor all your instructors must hold ( or be working towards ) A Level 2 sport or fitness qualification.
For a limited time only the cost to have GroovX in your facility is just
£99
per month
Launch your GroovX Fitness classes in 3 easy steps
STEP 1
Contact us to arrange your licence and sign up to our monthly licence fee. 
STEP 2
Once your instructors are inside our member's area they must upload their level 2 certification or equivalent for proof of qualification.
STEP 3
Use all the content inside GroovX Fitness to create your own class-based fitness business within your facility.
We offer a 30 day 100% money back Guarantee
We are so sure that you will love what GroovX has to offer that we offer a 30 day 100% money back guarantee if you do NOT want to continue with GroovX after 30 days. Try it, use it at no risk whatsoever!